Skin Conditions: Info & Recommendations
Browse all skin care solutions here.
Acne
Skin blemishes and acne are skin disorders seen in teenage skin and adults. Acne causes skin impurities and inflammation with clogged pores from oil and dead skin cells, therefore accumulating bacteria. All these factors can cause pimples, whiteheads, and blackheads on the surface of the skin.
When used on a regimented basis the following facial routine will:
help control acne / problematic skin types and excessive oil production
defeat bacteria
eliminate redness, irritation and inflammation
Recommended Facial Routine:
Hyperpigmentation
We recommend our Double Back Age Defying Beauty Balm. It's a "five-in-one" secret for achieving flawless skin. This multi-tasking, lightweight cream primes, hydrates, lightens, firms and visibly improves the look and feel of the skin. This revolutionary formula contains Licorice Root Extract that targets hyperpigmentation. Licorice Root Extract is commonly used in serums, spot treatments, cleansers, and moisturizers. It helps in the fading of hyperpigmentation and sun damage for all skin tones in a non-chemical way, leaving skin unharmed. It blocks melanin production to prevent the formation of hyperpigmentation. Its usage leaves the skin brighter, hydrated and clearer. The root extracts are potent for red, acne-prone skin, as well as for dull complexions and dehydrated skin. Perfect for all skin types. Available in 1 oz airless pump.
Melasma
Melasma (also known as Chloasma faciei, or the mask of pregnancy when present in pregnant women) is a tan or dark skin discoloration. Although it can affect anyone, melasma is particularly common in women, especially pregnant women and those who are taking oral or patch contraceptives or hormone replacement therapy (HRT) medications.
Milia
A milium (plural milia), also called a milk spot or an oil seed, is a keratin-filled cyst that can appear just under the epidermis. It can look somewhat like a whitehead and doesn't go away easily.
Milia Skin Conditions and How to Prevent Re-Occurrence
The small white heads that appear on the surface of the skin called Milia are deep seeded white bumps that form when the cells become trapped rather than exfoliate naturally. The trapped cells become tiny cysts that appear below the surface of the skin.
Definition of Milia: A hard closed comedo with a very obvious white head. Not to be confused with a pustule, milia are not red or inflamed.
Skin thickness: Prolong history of sun damage can lead to a thicker epidermis. A thicker epidermis is more difficult for dead cells to find their way out of the glands.
Genetics: In some cases genetics can be the cause of this undesirable skin condition.
Skin diseases that can contribute to milia: for example this could be associated by a certain skin diseases, and can be addresses by a physician's advice in sever situation.
Comedogenic ingredients can cause milia: Comedogenic creams and lotions may prevent the sloughing of dead epidermal skin cells. Products that can cause milia can be make-up removers not labeled oil-free or non-comedogenic, hair spray, hair mousse and gel, heavy sunscreens and some moisturizers. Certain lipsticks, lip balms and products meant to help with chapped lips may be the cause of little white pearly milia developing around the lipstick edge of the lips.
Recommendations in preventing reoccurring Milia
Clients with milia prone skin in general can benefit from this reoccurring issue by using our Glycolic Moisture Crème. The formula is light- weight and can be used every day without irritation or redness. Alpha and Beta Hydroxy Acids derived from Grape, Lemon, Passionflower, and Pineapple, gently remove surface debris. Salicylic Acid derived from Willow bark Extract is the beneficial Beta Hydroxy Acid that gives this formula an extra boost in exfoliation.
To prevent additional skin thickness and reduction in the signs of aging always use Advanced Protection SPF 30 during the day.
Exfoliation to prevent milia
Exfoliating on regular bases is a good way to prevent milia prone skin. Keeping the surface of the skin smooth and free of dead skin will reduce the formation of clogged pores. Choose the correct exfoliating formula for your specific skin. For example if you are oily and/or combination skin, use AHB / BHA Exfoliating Cleanser. For sensitive, normal and dry skin types use Papaya Crème Enzyme Polish.
Rosacea
Rosacea conditions are not uncommon and effect an estimated 16 million Americans. Flare ups can be mild to severe. Warning signs are redness with re-occurring flushing on the cheeks and nose, chin or forehead, and swollen and red papulopustular (pustules) on the surface of the cheek and nose areas. To help with flare ups stay away from ingredients such as alcohol, menthol, peppermint, eucalyptus, witch hazel and some fragrances. Avoid procedures with extreme heat or excessive steam, hot towels, hot wax, or coarse exfoliating cleansers.
Redness and irritation can be dramatically reduced just by using sunscreen religiously every day!
NOTE: For those who suspect they have Rosacea, it's very important to check it out with a dermatologist.
Acne, Delicate Skin, Broken Capillaries and / or Rosacea
If you have delicate skin tissue such as broken capillaries and/or Rosacea you may not be able to tolerate strong chemical peels due to sensitivity or allergy prone skin. A safe and effective alternative to salicylic or glycolic peels for these sensitive skin types is deep enzyme exfoliation. Most papaya enzyme masks on the market have the ingredient salicylic acid to do all the work, but our Soft Papaya & Pumpkin Masque's activity comes from the papain (papaya).
Enzymes are also beneficial for acne-prone skin. By cleaning out clogged pores, this masque will help prevent acne from appearing. For acne that has already emerged the papaya's strong decomposition enzyme, papain, works to eradicate it by breaking down harmful elements while leaving the healthy cells to thrive. Some acne treatments can be very harsh and irritate the skin; the Soft Papaya & Pumpkin Masque can be a great alternative to these types of aggressive treatments for acne. This masque can also be used in the healing process of acne.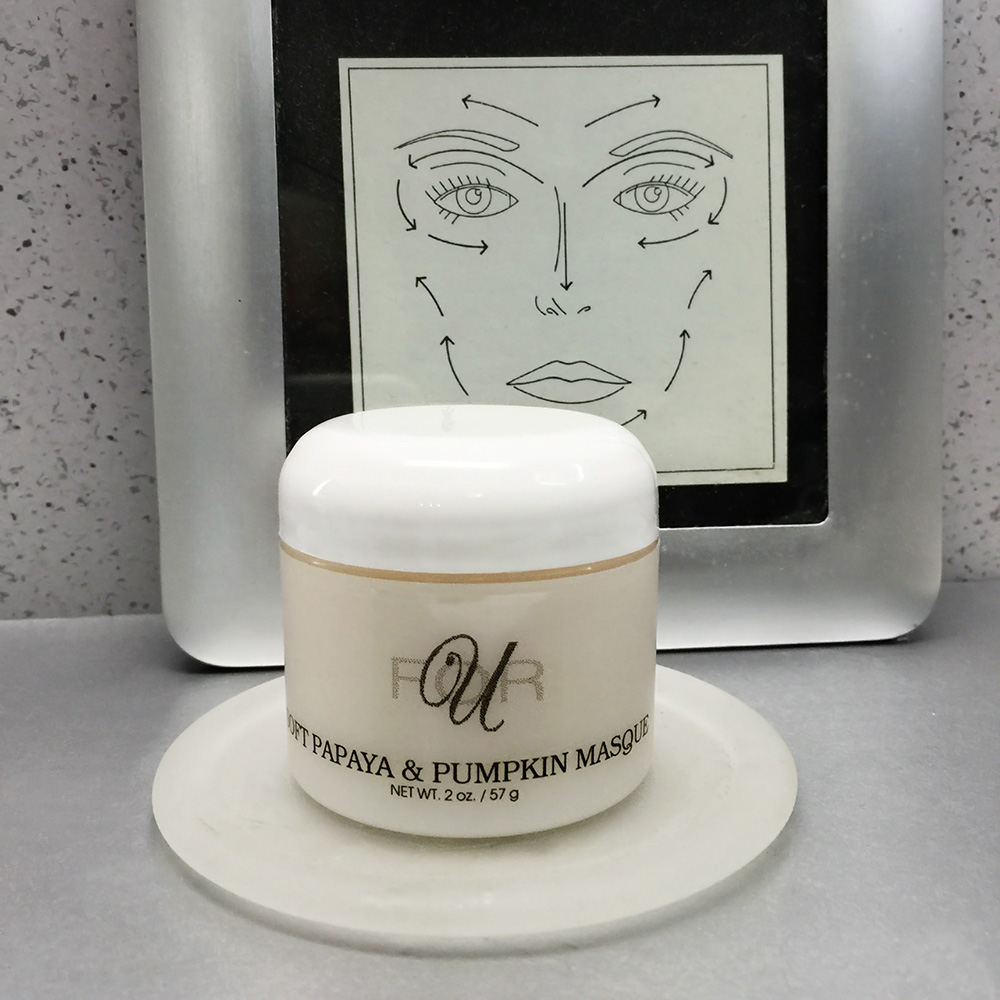 This exfoliator helps brighten and even skin tone without chemical abrasives. Natural papaya enzymes work to eliminate dry, dull surface cells and toxins to reveal a soft and smooth complexion. It improves penetration of other treatment products due to removal of dead surface cells.
The Soft Papaya & Pumpkin Masque is used to deeply cleanse and resurface the skin on the face by treating the upper layers of skin tissue. By removing dead skin cells, the face is left clearer with a more even tone and texture. Furthermore, by removing the dead cells from the skin, this masque will help to promote renewal within healthy skin cells. It can also help to diminish the visibility of scaring, sun spots and fine lines and wrinkles.
After using the Soft Papaya & Pumpkin Masque, your skin may look less wrinkled. Pores may be smaller and tighter. Your skin tone and texture may appear less blotchy and more even. Your complexion may be noticeably brighter. Healthy new cells will begin to replace exfoliated dead cells and family, friends and even co-workers may comment that you look younger and more refreshed!
The Soft Papaya & Pumpkin Masque is a valued and popular formula. This unique masque incorporates the special fruit active Papaya Enzyme, Beeswax and Avocado Oil to moisturize, hydrate and soften dry parched skin. Tapioca Starch and Kaolin clay tighten the surface of the skin to clarify and condition. Extracts of Pumpkin Seed and Comfrey have clarifying and healing properties. Japanese Green Tea acts as an anti-oxidant to reduce redness and irritation. This formula is gentle enough to be used two to three time a week.
Following a deep-cleansing peel, pores are tighter which facilitates easier extraction of whiteheads and blackheads. This deep-cleansing enzyme peel is gentle and natural, making it suitable for all skin types.